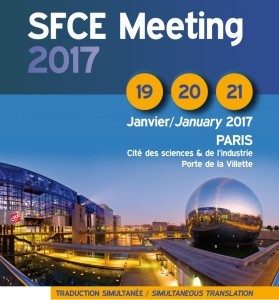 Chers Collègues, Chers Amis
Nous avons choisi la Cité des Sciences et de l'Industrie, célèbre espace parisien de diffusion de la culture scientifique et technique, pour abriter le prochain congrès de la SFCE du 19 au 21 janvier 2017.
Nous avons élaboré un programme attractif pour des chirurgiens « laparoscopistes » confirmés ou en formation.
Suite à nos « matinales » de démonstrations opératoires, suivront des conférences, des symposia industriels, des sessions scientifiques de mises au point, de controverse et d'innovation technologique.
Nous avons souhaité que ce XXIVe congrès soit tourné vers la transmission à l'international de notre «savoir-faire» chirurgical.
Ainsi, la présidence d'honneur reviendra au Professeur Antonio Lacy de Barcelone, plusieurs conférenciers étrangers nous rejoindront et une traduction simultanée en anglais sera disponible.
Tous les ingrédients sont donc réunis pour faire de cette manifestation un moment de partage inoubliable.
Au plaisir de vous retrouver bientôt à Paris
Jean-Michel Fabre
Président SFCE
Le bureau de la SFCE se réjouit de vous accueillir à la Cité des Sciences à Paris en janvier 2017 !
Dear Colleagues, Dear Friends
The next congress of the SFCE will be hosted by the prestigious parisian site of «Cité des Sciences et de l'Industrie» , 19-21 january 2017. We have elaborated an attractive program for skilled and training surgeons particularly involved in minimal invasive surgery. After our morning shows dedicated to surgical demonstrations, you could also appreciate many scientific sessions, conferences, face to face, state of the art, technology symposia.
We would like to facilitate an international broadcasting of our «know-how» . All the sessions will be recorded and later displayed on our web site (www.lasfce.com) and on AIS channel (www.aischannel.com). International experts from Europe and around the world will be present and a simultaneous english translation will be available
All the ingredients are gathered to make this meeting an unforgettable experience.
Don't hesitate and join us at the SFCE 2017 Meeting in Paris next January!
Jean-Michel Fabre
SFCE President
New ! Simultaneous translation French/English available at the congress
Jeudi 19 janvier 2017
Living legend : Pr Jacques Périssat
8.30-9.00 Séance inaugurale : Présidence d'honneur : Professeur Antonio Lacy
9.00-10.30 Démonstrations opératoires : Vidéo Session : Colon, Rectum
Modérateurs : Mathieu Beck, Christine Denet, Guillaume Meurette, Jean Luc Cardin
Rectopexie de D'Hoore pour prolapsus rectal (Eric Magne, Bordeaux)
Coloanale coelio : comment avoir assez de longueur (Yves Panis, Paris)
ETAP pour cancer du moyen rectum avec anastomose colorectale (Antonio Lacy, Barcelone)
Colectomie droite robot-assistée (Bernard Lelong, Marseille)
Tumeur rétrorectale par voie transanale (Jean Michel Fabre, Montpellier)
10.30-11.00Visite des stands
11.00-12.00 Démonstrations opératoires : Vidéo Session : Espace rétropéritonéal
Modérateurs : Alain Valverde, Laurent Bresler, Cecilia Frasconi, Fabrizio Panaro
Néphrectomie partielle robot-assistée (Nicolas Doumerc, Toulouse)
Paragangliome inter aortico-cave (Laurent Brunaud, Nancy)
Surrénalectomie par voie rétropéritonéale et position latérale (Jean Louis Dulucq, Bordeaux)
Surrénalectomie par voie rétropéritonéale en position ventrale (Jean Michel Fabre, Montpellier)
12.00-12.15Symposium Industrie (Olympus) - Innovation en chirurgie laparoscopique : 4K et Thunderbeat (Guillaume Le Roux, Lorient)
12.15-12.30 Symposium Industrie (Medtronic) - Ce qui importe au patient (Grégory Katz, Paris)
12.30- 13.00 Conférence : Innovations en chirurgie colorectale (Antonio M. Lacy, Barcelone)
13.00-14.00 Déjeuner
14.00-15.00 Session scientifique oeso-gastrique, duodenum, grêle
Modérateurs : Juan Santiago Azagra, Jean Louis Dulucq, Jean Delaby, William Tessier
Gastrectomie totale prophylactique pour mutation CDH1 (Guillaume Le Roux, Lorient)
Le cancer du cardia : stratégie chirurgicale (Juan Santiago Azagra, Luxembourg)
Chirurgie trans-gastrique pour dysplasie et cancer superficiel (Monica Gualtierotti, Christophe Mariette, Lille)
Oesophagectomie transhiatale : indications et techniques (Alain Valverde, Paris)
15.00-16.00 Session scientifique bariatrique
Modérateurs: Yves Anduze, Jean Gugenheim, Jean Claude Bertrand, Maud Robert
Twist ou sténose sur sleeve : options thérapeutiques (Patrick Noel, Abu Dhabi)
Faut-il calibrer le Bypass gastrique en Y? (Pierre Blanc, Saint Etienne)
Reprise pondérale après Bypass en Y : options thérapeutiques (Jean Gugenheim, Nice)
Chirurgie en un ou deux temps après échec d'anneau (Maud Robert, Lyon)
SADI (Yves Anduze, Toulouse)
16.00-16.30 Visite des stands
16.30-17.00 Session Jeunes chirurgiens
Modérateurs: François Appere, Cédric Vaudois, Olivier Emungania, Jean Pierre Cossa
Expérience préliminaire de chirurgie hépatique avec robot-assistance (Perrine Senellart, Orléans)

Etude médico-économique de la pancréatectomie gauche par chirurgie ouverte, laparoscopique et robot-assistée (Maylis Rodriguez, Strasbourg)

Laparoscopie pour grossesse hépatique

ectopique (Adrian Mancini, Grenoble)
17.00-18.00 Session scientifique "CAT devant"
Modérateurs : Frédéric Borie, Régis Souche, Jean François Gillion, Damien Massalou
Fistule gastro-bronchique après Sleeve (Catherine Arvieux, Grenoble)
Mucocèle appendiculaire (Diane Goéré, Paris)
Accident hémorragique au cours d'une hépatectomie laparoscopique (David Fuks, Paris)
Prise en charge des collections intra abdominales par endoscopie (Gianfranco Donatelli, Paris)
18.00 Assemblée Générale
20.30 Soirée rock FTF Live (sur inscription)
Vendredi 20 janvier 2017
8.30-10.30 Démonstrations opératoires - Vidéo Session : HPB
Modérateurs : Brice Gayet, Laurent Sulpice, Alain Sauvanet, Sophie Chopinet
Points clefs de la DPC Coelio Robot (Olivier Saint Marc, Orléans)
Pancréatectomie centrale (Safi Dokmak, Paris)
Duodénectomie partielle sans pancréatectomie (Frédéric Borie, Nimes)
Points clefs de l'hépatectomie droit robot coelio (Alain Valverde, Paris)
10.30-11.00 Visite des stands
11.00-12.00 Démonstrations opératoires - Vidéo Session : chirurgie oesogastrique "pot-pourri"
Modérateurs: Eric Magne, Christophe Mariette, Regis Fara, Cédric Beau
Technique d'anastomose gastrojéjunale manuelle sur bypass (Marcelo Loureiro, Curitiba, Brésil)
Renfort prothétique pour grande hernie para oesophagienne (Philippe Hauters, Belgique)
Diverticule épiphrénique par voie transhiatale (Jean Michel Fabre, Montpellier)
Laparoscopic transgastric surgery (Brice Gayet, Paris)
12.00-12.15 Symposium Industrie (Ethicon): L'innovation au service de la chirurgie colorectale : les ultrasons avancés (Yves Panis)
12.15-12.25 Académie Nationale de Chirurgie : Georges Mareschal et l'Histoire de l'Académie Nationale de Chirurgie (Philippe Marre)
12.30-13.00 Conférence : Gestion de la fatigue et de la sécurité : du cockpit d'avion au bloc opératoire (Philippe Cabon, Paris)
13.00-14.00 Déjeuner
14.00-15.00 Session des Clubs et Associations
Modérateurs : Philippe Malvaux, Florent Jurczak, Alain Deleuze, Yohann Renard
Compression du tronc coeliaque par le ligament arqué: analyse de 10 cas. (Philippe hauters, Club Coelio)
Registre de 20 000 patients avec un suivi de 2 à 5 ans (Jean François Gillion, Club Hernie)
Patch de fibirine autologue pour prévenir les fistules sur Sleeve (Jacques Soufron, Grecco)
Prise en charge chirurgicale du RGO en 2016 (Laurent Bresler, Aclavine)
Utilisation du ligament rond en chirurgie de l'obésité (Pierre Blanc, Cercle Kelling)
Les essais terminés et en cours du groupe GRECCAR (Jean Jacques Tuech, Rouen, Yves Panis, Paris)
15.00-16.00 Session scientifique : Controverse et alternative en chirurgie colorectale
Modérateurs : David Lechaux, Bernard Lelong, Diane Goéré, Claude Bertrand
Cancer du rectum: Peut on adapter la chirurgie en fonction de la réponse au traitement radio-chimiothérapique

Oui (Quentin Denost, Bordeaux)
Non (Yves Panis, Paris)

Anastomose après colectomie droite

Intracorporelle (Julien Lemaire, Claude Bertrand, Belgique)
Extracorporelle (Christine Denet, Paris)
16.00-16.30 Visite des stands
16.30-17.15 Session scientifique Technologie
Modérateurs: Philippe Hauters, Marcelo Loureiro, Pierre Blanc, Yves Panis
Single port en chirurgie colorectale (David Lechaux, St Brieuc)
Single port vs micro-instrumentation et cholécystectomie (Florent Jurczak, Saint Nazaire)
NOTES : indications actuelles et futurs développements (Silvana Perretta, Strasbourg)
17.15-18.15 Session scientifique Foie, pancréas
Modérateurs: Jean Michel Fabre, Safi Dokmak, Guillaume Le Roux, Olivier Saint Marc
Duodénectomie totale sans pancréatectomie pour PAF : indications et technique (Jacques Ewald, Marseille)
Enucléation et pancréatectomie centrale : indications et technique (Laurent Sulpice, Rennes)
DPC coelio : quel avenir (Alain Sauvanet, Paris)
Samedi 21 janvier 2017
DPC SFCE 2017 - en collaboration avec la FCVD (Organisme de DPC N° 1677)
Modérateurs : Jean Gugenheim, Alain Deleuze, Jean François Gravié, Jean Michel Fabre
Pathologie biliaire lithiasique : pertinence des actes et des modalités de prise en charge
9.00-10.20
Apport du registre, base REX (FCVD - Frédéric Borie)
Quand et comment opérer les cholécystites (Florent Jurczak, Saint Nazaire)
Lithiase vésiculaire asymptomatique chez l'obèse : les recommandations SOFFCOMM (Jean Gugenheim, Nice)
Faut-il faire systématiquement une cholangiographie au cours d'une cholécystectomie (Jean Luc Cardin, Laval)
10.20-10.40 Pause
10.40-12.00
Lithiase de la VBP (en dehors de l'angiocholite) : tout coelioscopique ou combinaison gastro-chirurgicale (Laurent Pellissier, Lorient)
Gestion d'une plaie biliaire reconnue en per opératoire (Alain Valverde, Paris)
Prise en charge endoscopique des complications de la chirurgie biliaire (Gianfranco Donatelli, Paris)
Sténose biliaire post cholécystectomie

Radiologie interventionnelle (Boris Guiu, Montpellier)
La place de la chirurgie (Daniele Sommacale, Reims)